What is this about?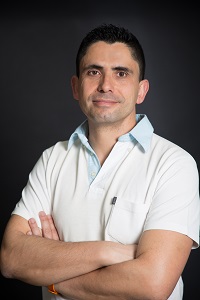 Hi, I'm José Manuel Ciges Regueiro.
Born in 1976, currently 44 years old, I life in Vigo, a really interesting city in Galicia, at the North West of Spain. In love with Open Source and Linux, I (try to) practice some sport (running and urban cycling) and my thoughts are mostly around personal and professional development.
Proud father of two fantastic girls, Urji, a star born in Ethiopia, really incredible from all points of view and Noan, her clever and promising little sister.
From 19 years ago I work as sysadmin and occasional developer in Seresco for PSA Group automotive factory at Vigo, in one of its IT departments.
Due to my not short trajectory I have been in multiple fronts: teacher, creation of a custom theme for MediaWiki CMS, development of webs in PHP, scripting in Python and Shell, creation of custom packages for Apache and other servers, user support ....
I have worked mostly as sysadmin with Open Source servers (Apache, MySQL, MediaWiki, Tomcat, OpenSSH) on Linux for the needs of the group around the world.
Currently my working day goes mainly in Shell scripting, maintaining Perl applications and giving support for OpenSSH installations in the group's infrastructure.
At this moment of my career I am looking to take a step forward, defining a path for the next years. I would like to be a member of the enterprise I work in and to be integrated into a team of collaborative and empathic workmates.
What I value most nowadays is the work environment, the people I collaborate with and continuous learning (not just technical!).
This humble blog will allow me to share some of the work and thoughts around my professional day to day. Hope it helps someone 🙂
---
You can follow my professional trajectory in LinkedIn and download my Curriculum Vitae in Europass format or a much more extended version, the "Manfred Awesomic CV" version (in Spanish), created for Manfred agency.
You could connect with me online at Email, Twitter, LinkedIn or directly by phone at +34 608570506.